I love Kelis. I know most folks give her the side eye but I just can't help but love her. I still jam to her "Kelis Was Here" cd on the regular.
On ybf, the she showed off her tresses with a  cute blond streak. I love her entire look from head-to-toe! She wore this as she took her son to see Yo Gabba Gabba!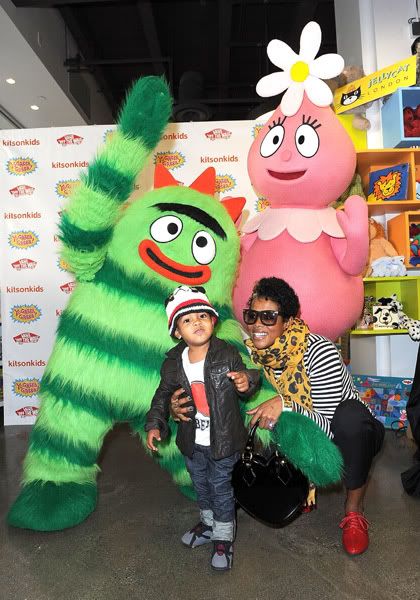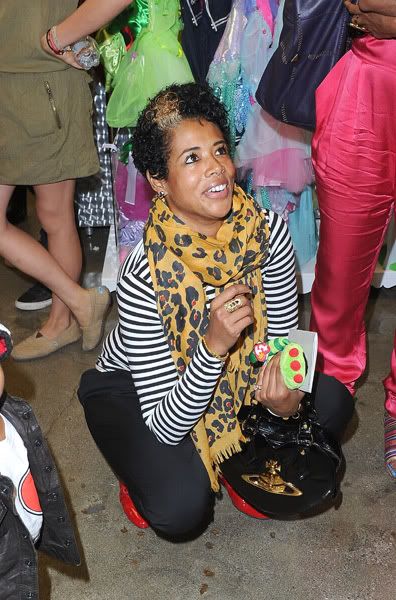 I want to point out what it takes to achieve this look.
Workout Hair Care Solution:
Permed & Transitioning- Create this look with a quick roller set.
Short Haired Naturals – To achieve this look try a wash and go and apply a little mouse to wet hair and finger style until you get the desired look. Be aware that every natural texture is different so yours might not look exactly like Kelis' but do what looks for your hair.
Pre -workout Hair Care
I recommend wearing a sweat band to not only absorb the sweat, but also lay the edges of your hair down. I am a fan of Lucy's Gym Power Headband.
Post Workout Hair Care
Make sure add some moisturizer and a little oil your scalp then use your hands to rearrange your curls.
Workout Outfit
Kelis' outfit is a great causal option to throw on after a workout.
Start off wearing a pair of black workout bottoms. That way you can pair them with any top, post-workout, to look cute while you continue your day. My advice for a quick post-workout change is to go to the gym in your black bottoms and any workout t-shirt. If you don't have time to shower after your workout ( let's face it, it happens sometimes), use some Dove Body Mist to refresh yourself ( be sure to add some extra deodorant too). Then, just change into a stripped shirt, add a bright colored scarf and cute flats to have a causal, cute outfit like Kelis.