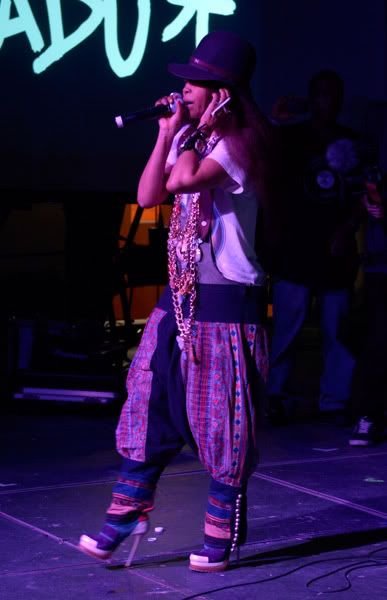 I am a huge fan of Erykah Badu, who was recently at South By Southwest Festival in Austin, Texas  (SXSW). As I was admiring her fashion choices and slowly incorporating some pieces and influences in to mine,  I also began to be inspired more about her vegan lifestyle. Yes, Erykah is and has been vegan before vegan became "affordable" and "cool." Even her kids live a vegan lifestyle as well. She wants all her kids to know what it's like to have a healthy body, but stresses that she doesn't force her lifestyle on them.
The Celebrity Diet Doctor notes how Badu's two older children, Seven and Puma, were all born into her vegan household, how it was a natural progression for them to eat what she ate because it's what was in the house.
"If they were to choose to do anything else after they become high school students, I would have full confidence that they know how to take care of their bodies and themselves," Badu is quoted as saying on the celebrity baby blog. "By making sure they use preventive medicine – getting plenty of water, plenty of chlorophyll and vegetable juices and good, healthy rest and activity – I know they'll be able to take good care of themselves."
But this soulful mom knows the importance of not allowing her kids to feel "left out" when they request food that all the other kids are eating, and prepares healthier alternatives to junk food like hotdogs.
"We make sure we keep a school menu on hand and we prepare the same foods the kids at school are eating but in a healthier manner."
I admire her for being open mind yet influencing her kids to have a healthy lifestyle and body. As you are making healthier choices from Hamburgers and Fries to Turkey (or Boca) burger and salad with grilled veggies, I hope you remember the influence you will with your kids and others around you. Keep things in a healthier manner for yourself and kids.